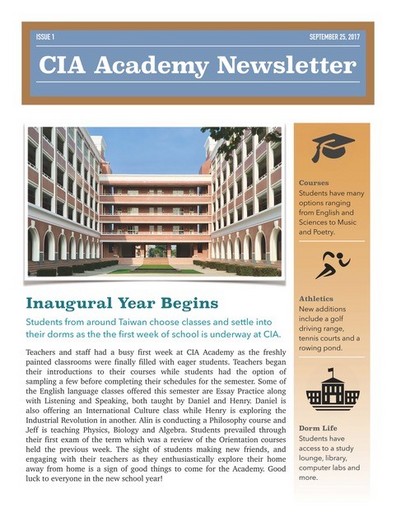 CTBC International Academy Newletter_Week 1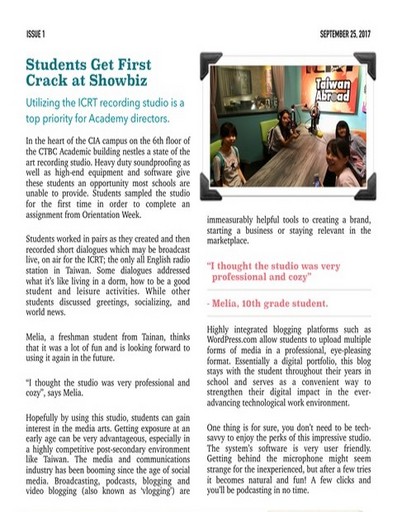 CTBC International Academy Newletter_Week 1
Students from around Taiwan choose classes and settle into their dorms
(中央社訊息服務20170929 17:12:42)Teachers and staff had a busy first week at CIA Academy as the freshly painted classrooms were finally filled with eager students. Teachers began their introductions to their courses while students had the option of sampling a few before completing their schedules for the semester. Some of the English language classes offered this semester are Essay Practice along with Listening and Speaking, both taught by Daniel and Henry. Daniel is also offering an International Culture class while Henry is exploring the Industrial Revolution in another. Alin is conducting a Philosophy course and Jeff is teaching Physics, Biology and Algebra. Students prevailed through their first exam of the term which was a review of the Orientation courses held the previous week. The sight of students making new friends, and engaging with their teachers as they enthusiastically explore their home away from home is a sign of good things to come for the Academy. Good luck to everyone in the new school year!
Students Get First Crack at Showbiz
In the heart of the CIA campus on the 6th floor of the CTBC Academic building nestles a state of the art recording studio. Heavy duty soundproofing as well as high-end equipment and software give these students an opportunity most schools are unable to provide. Students sampled the studio for the first time in order to complete an assignment from Orientation Week. Students worked in pairs as they created and then recorded short dialogues which may be broadcast live, on air for the ICRT; the only all English radio station in Taiwan. Some dialogues addressed what it's like living in a dorm, how to be a good student and leisure activities. While other students discussed greetings, socializing, and world news. Melia, a freshman student from Tainan, thinks that it was a lot of fun and is looking forward to using it again in the future. "I thought the studio was very professional and cozy", says Melia. Hopefully by using this studio, students can gain interest in the media arts. Getting exposure at an early age can be very advantageous, especially in a highly competitive post-secondary environment like Taiwan. The media and communications industry has been booming since the age of social media. Broadcasting, podcasts, blogging and video blogging (also known as 'vlogging') are immeasurably helpful tools to creating a brand, starting a business or staying relevant in the marketplace.
Highly integrated blogging platforms such as WordPress.com allow students to upload multiple forms of media in a professional, eye-pleasing format. Essentially a digital portfolio, this blog stays with the student throughout their years in school and serves as a convenient way to strengthen their digital impact in the everadvancing technological work environment. One thing is for sure, you don't need to be techsavvy to enjoy the perks of this impressive studio. The system's software is very user friendly. Getting behind the microphone might seem strange for the inexperienced, but after a few tries it becomes natural and fun! A few clicks and you'll be podcasting in no time.