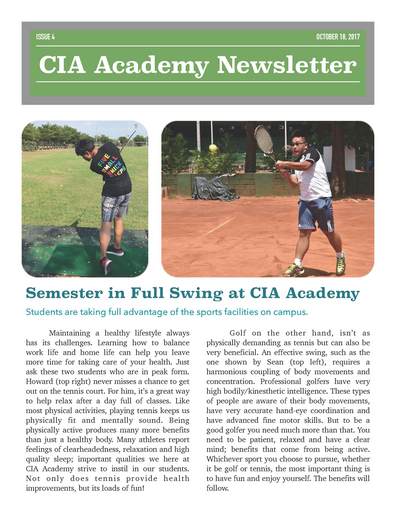 CTBC Internation Academy Week 4 Newsletter_1

CTBC Internation Academy Week 4 Newsletter_2
(中央社訊息服務20171023 10:15:45)
Students are taking full advantage of the sports facilities on campus.
Maintaining a healthy lifestyle alwayshas its challenges. Learning how to balance work life and home life can help you leavemore time for taking care of your health. Just ask these two students who are in peak form.Howard (top right) never misses a chance to get out on the tennis court. For him, it's a great wayto help relax after a day full of classes. Like most physical activities, playing tennis keeps us physically fit and mentally sound. Being physically active produces many more benefits than just a healthy body. Many athletes report feelings of clearheadedness, relaxation and high quality sleep; important qualities we here at CIA Academy strive to instil in our students. Not only does tennis provide health improvements, but its loads of fun!
Golf on the other hand, isn't as physically demanding as tennis but can also be very beneficial. An effective swing, such as the one shown by Sean (top left), requires a harmonious coupling of body movements and concentration. Professional golfers have very high bodily/kinesthetic intelligence. These types of people are aware of their body movements, have very accurate hand-eye coordination and have advanced fine motor skills. But to be a good golfer you need much more than that. You need to be patient, relaxed and have a clear mind; benefits that come from being active. Whichever sport you choose to pursue, whether it be golf or tennis, the most important thing is to have fun and enjoy yourself. The benefits will follow.
The Sound of Music
Examining the interrelationship between music, language and movement.
Students attending the CIA Academy have a unique advantage in that they attend courses in three different languages (Japanese, Chinese and English), they are required to learn music, and also participate in weekly physical education in which they learn the fundamentals of certain sports (currently golf). As it turns out, there is a huge advantage in learning these three areas simultaneously.
It was believed that learning music and language were two separate faculties, each having their own compartment of grey matter dedicated to it. However, studies have shown, one in particular conducted by professor Ullman of Cambridge in 2006 demonstrated that music learning and language acquisition both follow a hierarchal pattern for learning. This means before you can play a song, you need to learn the notes, scales, chords etc. This is very similar to language. Before you are able to practice a new language, you must learn the necessary phonemes and words beforehand. But how does movement affect learning?
Physical activity, especially activities abound with fine muscle movements, are controlled in centres of the brain which have shown to be active during music learning. The graceful golf stroke by Amy (above) and Daniel's balanced, precise movement across the strings with his bow (left) are two related movements. We forge new brain connections as we learn the movements associated with playing specific notes, these connections then become reinforced by practicing the same movements elsewhere.
Selena, a grade 10 student loves the variety of courses she takes. "I think it's good to change classes often. We can study a lot of different things. This way we don't get bored too easily." Molly also drew the comparison to how music and English are international languages. "If you want to study abroad, learning English is very important." Another grade 10 student, Ellie, recognizes the distinct health benefits of exercise and learning. "I feel healthier after a day of PE, not only my body but my mind too." Lets hope these young and bright students keep up their active routines.
STUDENT PROFILES: JASON
Jason is a 15 year old, Tainan local. If you can't find Jason playing baseball, basketball or tennis, you might find him in class practicing his favourite subject, mathematics! Jason lives at the school during the week and has a short journey home during the weekend; a good advantage because it allows more time for his favourite hobby, watching movies.
The website of CIA is as followed:https://ia.ctbc.edu.tw/