School Cleaning
Teachers and students get busy with sweeping and mopping.
Last Wednesday after lunch saw a flurry of activity at the high school building.  The students, with teachers organizing, supervising, and assisting, grabbed cleaning implements and took off a layer of dust and dirt from the classrooms and corridors.  Students cleaned two floors worth of rooms, stairways, and hallways.  Some of the classrooms are unused and as such were quite dirty after sitting in that state since the previous owners used them.
The cleanup efforts took longer than expected the first time because of the dirtiness of the unused classrooms and a lack of brooms, mops, dustpans, and buckets.  However, an arsenal of cleaning tools has arrived, and subsequent cleanups will go much more quickly.  When asked how the school looked after cleaning, Molly replied with a smile, "Much better!"  Howard proclaimed it looked "perfect".
Free Bicycles?
Bikes make getting around campus much faster.
You may have seen students and teachers alike zipping around campus on similar-looking bikes.  These bicycles are available on campus for anyone to use.  Some of them can be used just by hopping on and riding.  Others can be used only after downloading an app and registering.  Once that procedure has been completed, you are free to take a bike and ride to your heart's content.  There is a catch, though.  The use of these bicycles is paid for by the distance traveled on them.  So, if you are planning on taking one for a ride to explore the environs around the campus, know that it will cost you more than a jaunt from one building on campus to another.  Happy riding!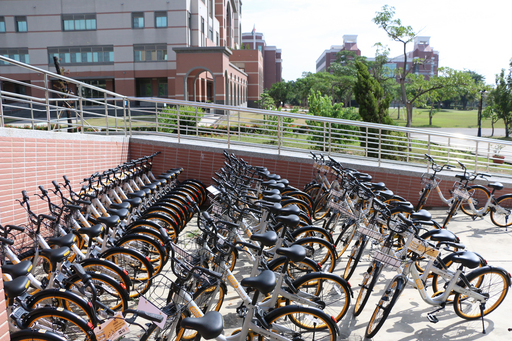 Midterms
Midterm exams are right around the corner.
The bane of student existence: exams.   It seems like the classes just began a few weeks ago, and already a round of tests looms.  Students have already had some opportunities to demonstrate their learning with worksheets, quizzes, and regular homework assignments.  With a growing chunk of coursework getting completed, it is time for teachers to start preparing exams.  The tests are mandated for all classes except writing, in which student learning is better demonstrated in weekly and monthly writing assignments.  Although students universally loathe exams, some of the more feared ones may be in biology and physics, where they have encountered some challenging vocabulary and concepts.  The students are, however, quite proficient in the math classes.  Whatever exams students dread most, they still have several weeks to prepare and to get the grades that will make them, their parents, and their teachers proud.
Student Profile: Howie
This outgoing young man is from Taipei.  He calls Taipei home, but he has also lived and attended school in Beijing, China.  Howie has an older brother and sister, both of whom live away from home.  He enjoys reading all kinds of books, in English, but especially science books.  Another hobby is playing billiards.  He is so far undecided on a career, but in the ICRT recording studio on the campus he showed some natural ability and flair. Perhaps a career in broadcasting is something to think about.